The holidays have become a time of great stresses and budget busters, partially caused by materialism.
Don't get me wrong, I love getting gifts and having material objects as much as the next person. However, I personally feel that such a huge focus on material objects greatly detracts from the spirit of the season – loving and appreciating the gifts and people we have in our lives.
To that end, I try really hard to make or create as many gifts for friends and family members as I can, instead of buying them a bunch of stuff they may not need. If you need a little more help staying on budget, you can check out our 4 ways to save money on Christmas shopping.
One really fantastic way to enjoy Christmas without spending a bunch of money is to start fun family Christmas traditions!
This is a guest post from Heather, one half of the duo of Heather and Lisa at Made In A Pinch. They're college roommates who moved 2,000 miles apart from each other but wanted to stay in deeper touch as they go through parenthood. They are dedicated to helping you make your family life a little easier, healthier, and happier by giving you simple tips, recipes, DIY and so much more! Check them out on Facebook, Twitter, and Pinterest.
(THIS POST PROBABLY CONTAINS AFFILIATE LINKS. OUR FULL DISCLOSURE POLICY IS REALLY BORING, BUT YOU CAN FIND IT HERE.)
Cheap but meaningful gift ideas for adults:
1) Family Calendar
I make one of these every single year and give it to grandparents, aunts & uncles and any other family members who would enjoy it. We also keep one for our family to use during the year, and my kids love getting one as well! They love being able to look through all the photos from the previous year to remember what we did, and they talk about their memories and favorite experiences frequently.
I know you can get these from many places, including VistaPrint, Shutterfly, Costco, and more. I've tried several different sites to make and order these, but my favorite is Snapfish. I can usually find great deals with Snapfish, too, including this fantastic deal:
2) Ornament
This is something I do for close family members and sometimes close friends. I love adding ornaments to our tree to mark an event from the past year: the birth of a baby, a wedding, learning how to ride a bike, buying a new house, etc. Some families collect beautiful nativity ornaments. The list of possibilities is endless!
It's fun to put the date (or just the year) on the ornaments and enjoy the memory year after year as you (or your family members) decorate the tree! I love the very personal and memorable touch doing this adds to our family Christmas tree.
Related: How to Have a Fun Frugal Christmas
Related: 10 Things I Won't be Buying This Christmas (to Save Money) 
3) Make a gift
This is a personal favorite of mine. I love homemade gifts – they have so much more meaning for me than something bought from a store because I know that someone personally put in the planning and the time to create something specifically for me. Don't get me wrong, I enjoy gifts bought from stores as well! I just know how much time and effort can go into making a gift by hand.
Here are some ideas for homemade gifts:
Crochet or knit a hat and/or scarf
Crochet an afghan
spice mix
salsa
hot chocolate mix
sugar scrub
hand soap
jam
delicious quick bread
a tin of holiday goodies!
and more!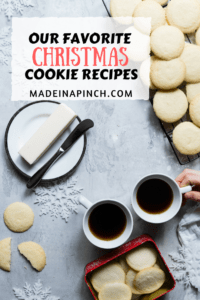 Want our favorite holiday treats recipes? Get your (FREE) copy here!
4) Photo book
Did you take a fun trip this year? Celebrate a special event or occasion? Did someone get married?
Photo books are a great way to document special events in a way that is clean, beautiful and easy to store. Plus, they can be pulled out time and time again to enjoy the photos and memories. My kids love looking at photos and talking about them again and again!
I really love Snapfish for our photo book needs as well!
5) A great book:
Reading is incredibly enriching and enjoyable for many people. Chances are, that special person that you are buying for has at least one book that they would enjoy receiving this year. If you need any ideas, check out our reading lists for adults, toddlers, young elementary students, and older elementary students.
As a bonus, this can be one of the cheaper ideas we're giving you today! You can often find them on sale around the holidays, and they can be used again and again. The gift of reading is a gift that keeps giving in so many ways.
Related: Clutter Free Christmas Gift Ideas for Adults
Cheap but meaningful gift ideas for kids:
1) Personalized book
My sister and her husband gave each of my boys a personalized book a couple of years ago. What a great idea! My boys love having a book with their name in it as the main character, and they still pull it out and read it once every couple of weeks or so.
I SEE ME has some great books to choose from as well as a huge selection of other personalized gift ideas!
2) Personalized name puzzle
I got one of these as a kid, and I still have it. I also gave one to each of my kids when they were little. Now, these puzzles are part of their bedrooms and help add some personality to their rooms. Plus, the puzzle aspect is fun to take apart and put back together time and time again!
There are many variations of name puzzles, but this interlocking letter style is my favorite. There's also the more traditional + adorable puzzles available here!
3) A fun adventure
Some families want to focus less on giving material gifts (I totally understand – each year we try to do that a little more for our family).
If this is you, consider taking the kids to go do something super fun…play laser tag, go bowling, roller skating, rock climbing, a ropes course, skiing, an indoor amusement park (or water park such as the Great Wolf Lodge). Maybe even a play (I want to start a tradition of going to see a Christmas play together), family comedy show, or a concert. The possibilities are endless, and this idea can range from dirt cheap to fairly expensive, depending on your budget. (OR, skip gifts all together and spend the whole Christmas budget on a family vacation!)
4) A musical instrument (or karaoke box)
Give the gift of music! I believe this is a gift that keeps giving. Most kids love music. We gave our kids a keyboard, and they LOVE it! I love that they spend hours experimenting with it and playing it…now it's time to really learn how to play music (lessons in their future, perhaps?)!
We also have a karaoke machine. I was completely resistant to the idea of them having one at first, but I am so glad I gave in! This is another item that keeps them busy for hours just singing and having a dance party. Keep your eyes out for deals, as these items can range in price and become expensive. However, deals are out there!
5) Make tie-dye t-shirts, dresses, long sleeve shirts or even bags
They are fun, colorful and cheap! My kids absolutely love the ones they made a couple of years ago! This can be done ahead of time and put under the tree so the kids can unwrap them. Or another option is to give them the kit (a shirt and they dyes, etc) and do it all together. I am a huge fan of making memories together 🙂
You can find blank white t-shirts and canvas bags of various sizes for low prices at your local craft store. Shirts range in price from $2-$5 or so (you can get 12 white shirts for less than 30 bucks here). Canvas bags can cost about $2-$10, depending on the size of the bag.
Related: Clutter Free Christmas Gift Ideas for Toddlers to Teens 
By making a plan ahead of time and setting a budget, you can effectively save a lot of money on your holiday shopping this year! Take advantage of the great deals between now and then to help you stay on track.
Tell us in the comments: what are creative and frugal gifts that you have given?