Useful Products that Solve Problems You Never Knew You Had
Tis the season for giving! Unsure of what you want to buy for everyone on your list? Forget giving gift cards and cash. Give them exactly what they need. Here I have compiled a list of products that solve problems…some even solve problems you never knew you had!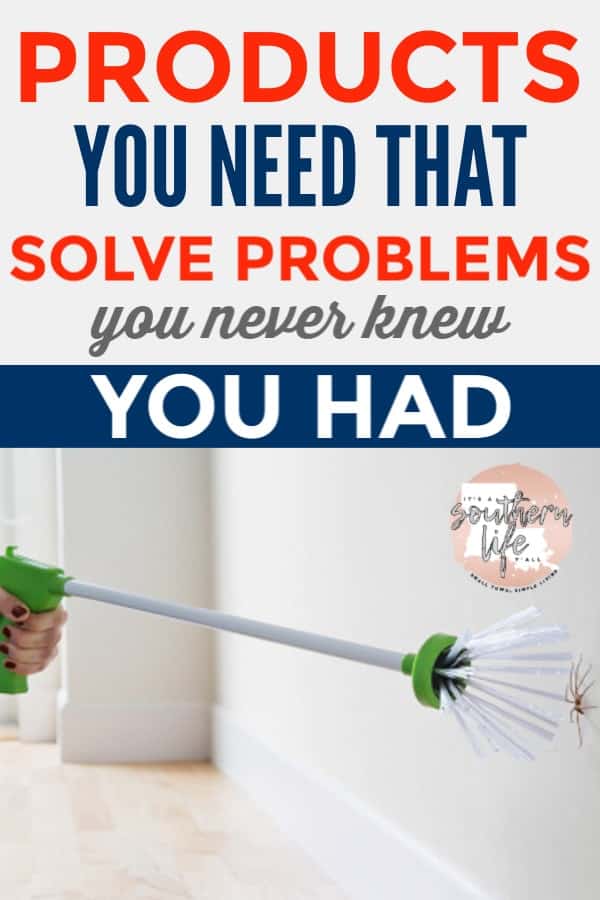 Just like you, I am preparing for the holidays and scouring Amazon to find the perfect gifts that still fall within my budget. As I searched, I found oodles of GREAT products that solve so many problems.
So if you are looking for inspiration for the perfect gift for the people on your list, look no further. This gift guide is sure to have something useful for everyone!
(THIS POST PROBABLY CONTAINS AFFILIATE LINKS. OUR FULL DISCLOSURE POLICY IS REALLY BORING, BUT YOU CAN FIND IT HERE.)
Products that Solve Problems…Even problems you never knew you had!
These items also make perfect gifts for people that "already have everything"!
This stainless steel "soap" removes stubborn odors from your hands.

Sounds too good to be true, but it IS true! This stainless steel "soap" is excellent at removing odors and lingering scents from your hands.
We had one of these when I was a kid and it definitely works!
A collapsible water bottle not only reminds you to stay hydrated but saves space when empty.
I love having a reusable water bottle but hate toting it around when it is empty. This handy collapsible water bottle solves that issue.
Capture those brilliant ideas in the shower with this waterproof notepad – a great way to jot them down and not forget.
An easy way to polish your nails without the hassle of spilling.
This nifty fingernail polish holder fits like a ring on your fingers enabling you to paint your nails anywhere!
Amp up your taco game with these handy taco holders that make assembling your tacos easy and mess free.
Never fall asleep with painful headphones again!
These headphones are designed for a more comfortable than the conventional ones. More like a cozy headband than headphones.
If you are a book lover you will need this.
Hold your books open easily with one hand using this page holder.
Stop sinking in the grass when you wear heels!
If you have ever walked over grass in your heels, you know this is a difficult task to do without sinking in the turf. Protect your heels and stop sinking or falling into cracks by using these
.
Keep everything nearby and out of the bath using this handy tray.
Take a relaxing bath with all of your favorite things using this expandable bath tray
.
Use this wine opener and be super fancy!
This insanely cool electric wine opener
seems like it should cost a LOT of money, but it is very inexpensive. This kitchen gadget makes you feel extra adult without breaking the bank.
A set of nail clippers to neatly gather your nail clippings.
Clip your nails without having the clipping catapulting across the bathroom with these nail clippers
!
These super thin hangers will save space in your closet!
These velvet covered hangers
will save space and your tank tops won't slip off! That's a double win!
A handy reading lamp that easily clips onto almost any surface!
This handy little reading lamp
clips on almost anywhere you will need a great light. The best part is that it is very affordable.
Find things in your purse easily using this light!
I love my purse, but everything seems to hide in the dark depths of my bag. Solve this by using this attachable bag light
.
Use this to remove bugs without getting close to them!
This insect catcher
gently picks up those little critters while letting you maintain a nice bit distance from them. A safe catch and release, so they won't be hurt and you won't be terrified!
Fold your clothes neatly using this handy-dandy folding board. 
Fold your shirts quickly and neatly using this folding board
.
Clean your microwave with very little effort with a steam microwave cleaner.
Simply add water and vinegar to this little gadget
, pop it in your microwave for seven minutes, and then wipe the inside of the microwave. That's effortless cleaning!
You need this clip to hold your utensils without the mess!
Use this heat resistant clip
to hold your utensils right over the pots you are cooking in!
Polish your pearly whites using this toothbrush.
This toothbrush
has bristles that are infused with charcoal to polish your teeth to a brilliant white while also removing plaque and bacteria.
Charge and sanitize your phone with this small box. 
I don't even want to know about the germs and bacteria all over my phone. Luckily this small box
handles all of that all while charging your phone too!
I hope you found something unique on this gift guide. Let me know in the comments below if you have tried out one of these nifty products.